Hello !
Its been a while since i wrote a blog but I just felt I should update anyone who wanted to know what was going on, but what is going on ?
I've been trolling in an attic in forest hill, London working on some new songs and so far its been going great. I have then been recording them with James Mellor at The Motor Museum in Liverpool with the help of Andy Dunlop.  I am really enjoying all that is coming out and recently one of the songs got a sneak play on Xfm's Communion show ! It was definitely a milestone and the feedback from the song was boss so good shit all round really.
I have also been partaking in a lot of writing for other people and projects. Most of these projects are yet to be released so i can't talk too much about them but they are so exciting ! I know people say that shit like "watch this space" and i always think "fuck off" but yeh anyway, WATCH THIS SPACE !
I just want you all to know that I'M STILL HERE ! Even when it seems i'm not i am. I'm working my ass to the bone (not like that) and I will soon be throwing another batch of songs and videos for you to either snog, marry or avoid.
Finally I should also point out that I will be headlining this years Riba Rocks festival in Catalunya ! Which i am just obviously excited about. I cant wait to go back !!! Get your tickets !
So yeh just carry on with your lives but very soon   POW !!! im gonna smack you across the face with my new 10 inch releases.  POW POW ghettoblaster x
Ah Guten tag !
How are you all doing ?
Well last week I went to Hamburg and it was amaaazing. I'd never been to Germany before so I was super excited about exploring a new place, and also to meet new people which is always a fun way to pass the time.
I arrived in Hamburg where I trained it to Reeperbahn, A place I was unfamiliar with so did not expect to find strip clubs and amazing food places ! WINNER WINNER WINNER. Although prostitutes and strip clubs aren't my thing and I was slightly afraid at first, I soon felt at home when I saw how lively and vibrant the place was. Also the amazing food on display helped.
So my first port of call was to go to the place I was staying.  A big thank you to Corinna for putting up with me for a couple of days ! Then I had an 'In bed With' Session where I played a song and had an interview with a fellow englishman Will Robert. A lovely guy and very talented musician, Such a pleasure to meet him and share a bed. Thank you to Katrin for my In bed with session, She truly is a star.
Shortly after that we got ready for our sofa concert gig. Will offered to play some songs before I got up and play and he was awesome !
Then it was my turn. Slightly pooing my undies i donned the living room to a packed in crowd of wonderful Germans ! And it couldn't have gone better. Such a wonderful, enthusiastic and generous crowd that made me feel at home instantly. And the candyman was passing sweets around. I had an absolute ball !
It was great to see Nessi Holt at the gig too. Someone who has supported me relentlessly for the past couple of years and i got to thank her in person. She interviewed me for her blog then we checked out the Reeperbahn for some delicious Brattwurst. I got to hear a wonderful rendition of the german 'Digimon' theme song and then I slept in the hallway of an apartment building. A wonderful first night and a pleasure to meet everyone.
Then the next night I got to check out another sofaconcert featuring Sascha  reske. A charming German guy who asked me to get up and play a song. We sang, we chatted and I was given a small liquorice sweet called 'spunk' from a charming german girl. After that I went and ate the best burger ive ever had with corinna before shortly returning home. But not before eating a 'Wunderbar' ! My eyes were opened to this amazing chocolate bar and my life was changed. Overall I had a wonderful trip and can't wait to return !
I also announce my next trip to my home city of Liverpool where I will be playing The Cavern ! I feel like ive had some kind of beatles trip from hamburg to The cavern but im very excited to be returning home ! The gig is on the 5th November and tickets are absolutely FREE !!! Be sure to get in touch if you want any.
Thanks for listening to my rambongles xx
Hey Sports fans,
Heres the moment you wait for all month, the part were i talk and talk about my favourite subject ….. MEEEEEEE !!
Of course I joke, but please continue to stay seated while i do indeed talk about the adventures I have been on since we last spoke.
As you know (cos i told you so) a few weeks ago I flew over to the beautiful Catalunya to play the Riba Rocks 2014 Festival, and wow what a festival it was !! I have never seen a more perfect landscape to play my songs at, as well as the unbelievably wonderful and kind people too. Im gonna take this opportunity to thank everyone involved in the festival and all those lovely people who came to watch my set and sing along :] It really was one of my favourite gigs to date and I have had the blues ever since. Yes I miss it bad. But all good things must come to an end, I am sure Riba hasn't seen the last of me and vice versa. One of my favourite Liverpool bands and friends 'Run Tiger Run' were also there and played a blinding headline set on the first night. Safe to say much fun was had by all.
VIVA LA RIBAAAAA !!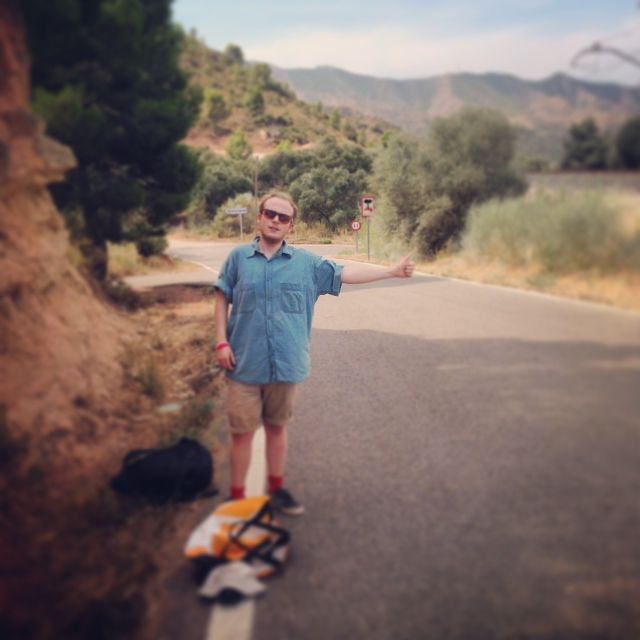 Just before I left for Riba and shortly after, I released a series of free Demos for your ever listening ears. Did your hear them ? Well if you didn't you can listen again and again and again and again as I have made them all free and available to download in this wonderful soundcloud playlist ! So go on what are you waiting for ? go and get the 'Good for Nothing' Demos now you fools. VVV

Finally as many of you know I recently moved to London to find my fame and fortune. So far i've found a place that does the best burgers I have ever eaten and that will do for me. But seriously I have played some cracking gigs and met some really interesting people. Things are feeling good and i'm as excited as always but slightly more so. I'm working on many new songs as we speak and also new videos ! So remember stick around and keep listening, playing, and sharing ! Cos if your nice to me i'll be the best you ever had.
All my love
Ali
xx
It has been a lifetime since I last wrote a blog, but that only means I have a lot to say !
Hiding away writing and recording has meant I have a lot of songs saved up to set loose on your ears, Plus I have some new videos to share with those of you who have not seen them yet. As well as songs I have some upcoming gigs to share too. I recently moved to London so I have a few dates here but my heart still lives firmly in Liverpool so i will be playing down there for sure. Not to mention hanging out and writing with some awesome people ! Things are exciting again and I couldn't be happier to share the exciting times with you all.
The first thing I would like to share is my latest release 'A Life Unlike Yours', recorded with the dream team Tom Longworth and Rich Turvey. Ive been recording with these guys since my records began and I don't intend to stop now. The record was created with limited resources and time which made us work so much harder with what we had, creating (in my own opinion) the best piece of work i've ever released. The style, sound, and lyrical content is a perfect representation of where I am right now, So listening to the record should be like stepping into my head like some 'Being John Malkovich' stuff.  You can stream the EP for free online or you can buy it from all good online stores !
Here is the sound cloud player :
So far I have made 2 videos for the tracks 'A Life Unlike Yours' and 'The locker'. I always like to leave my videos open to interpretation so I will let the videos do the talking. SEE BELOW   X
 A Life Unlike Yours [Official Music Video]
The Locker [Official Music Video]
 Also if you want to come and see me live I have some dates coming up ! As many of you will know I very rarely gig so I am looking forward to getting out of my room and playing some of my songs old and new….
so now I am back and i promise never to leave you again ! So don't you dare leave me.
XXX
Last week I played a gig in a private members club in London called home house, organised by the legendary singer/songwriter Chris Difford. I was joined by the incredibly talented Jessica Carmody (Pictured below) as we played a handful of songs from our collaborative side project which is yet to be named. The line up was also filled with many beautiful acts including Emma Jane Thommen, Chris simmons, and Chesney Hawkes to name just a few. The venue itself was like stepping into a world I had never seen before. A very extravagant and grand Private members club a stones throw away from Marble Arch. But amidst all of the class and fortune I played in my old jeans and terribly casual jumper, What i thought was nice attire until i looked out to an audience of some of the most expensive looking people i had ever seen. Thats not to say i didn't enjoy the gig. An extremely good time was had by all and it was sweet to catch up with the inspiring people who had put me there.
There was a boy with eyes of glass. They caught the light in such a way like nothing seen in present nor past. He had a simple life. His ordinary existence was made hard by an ever-growing monster that followed his every turn with vicious influence. Where this monster came from the boy was unaware. He  could not remember the moment he arrived but the monsters persistence to create trouble made it feel like an eternity. The monster sent rain clouds to drown out the sun but the boy kept his head up and adored every drop. The monster sent fires to leave nothing but ash but the boy blew out the fires and dried his cold wet hands on the embers.  Soon the boy began to blame the monster for every wrong in his life. The monster became tired and useless. As time passed, where once there was a boy, now stood a man, with impossible hopes and extraordinary plans. The monster grew small and weak until eventually, he disappeared. With no monster around and still so much pain, who else but himself was the man left to blame. So he picked up a rock and shattered his eyes to reveal two dull fleshy balls. They could no longer catch the light in such a way. All of the colours faded and the streets became gritty and dark.  So today, where once a man was, now stands a monster. This monster shallow and bitter but without a care, waiting for the chance to be a man once more.